Winter Flu Jabs
Winter Flu Vaccination Service
Our winter Flu Vaccination Service is administered by our trained Pharmacists. Before you can be vaccinated, our trusted Pharmacists will go through a series of questions to ensure that you can be vaccinated safely and efficiently. You will be asked to stay on site for a short while post-vaccination to ensure you do not react to any of the ingredients in the vaccine.
What is Flu?
Flu is an acute respiratory viral infection caused by an influenza virus. It can affect even the fittest of us, in any age group, particularly in the winter months.
Common flu symptoms come on very quickly and
can include: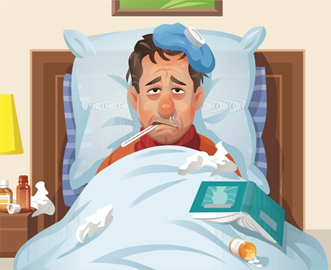 a sudden fever – a temperature of 38C or above
an aching body
feeling tired or exhausted
a dry cough
a sore throat
a headache
difficulty sleeping
loss of appetite
diarrhea or tummy pain
feeling sick and being sick
The symptoms are similar for children, but they can also get pain in their ear and appear less active.
Why should you get a flu vaccination?
To stay healthy and prevent the spread of flu
among family, friends and work colleagues, taking advantage of our flu
vaccination service is a good first step. Due
the influenza virus' highly contagious nature, it can be rapidly transmitted
from person to person either through coughs and sneezes or by touching someone
or something, which is already contaminated with the virus. Most flu outbreaks usually happen in late
autumn or winter so being vaccinated at the right time is crucial. For most
people, it's an unpleasant but not a life-threatening condition.
For some people, complications from the flu can result in more serious illness such as:
You are at risk of the flu if you:
are 65 years old or over
are pregnant
have certain medical conditions:

Lung disease (including asthma if you are on a preventer inhaler)

Lowered immunity due to disease (such as HIV) or treatment (for example steroid medication or cancer treatment) or you have had your spleen removed

Long-term neurological conditions such as Parkinson's disease or multiple sclerosis

are living in a long-stay residential care home or another long-stay care facility
receive a carer's allowance
are the main carer for an elderly or disabled person whose welfare may be at risk if you fall ill. Carer status may include:

People aged 18 or over who are in receipt of a carer's allowance

Those aged 18 or over who are the main carer for an elderly or disabled person

Are a health or social care worker working in a residential or a nursing home, a hospice or with a home care provider
Share a household with someone who has an impaired immune system
Have a Body Mass Index (BMI) of 40 or more
Price
If you fall
under any of the categories above, you will qualify for a FREE NHS vaccination.
If you do not
fall under those categories; our private winter flu vaccination service is £9.99.